METAL CROSS:
Metal Cross is a Nepali band formed in 1992. Its members Badan Tuladhar (437B) on Bass/Back Vocals, Lokesh Shrestha (431B) on Drums/Back Vocals, Nischal Shrestha (482B) on Lead Vocals/Lead Guitars, and Suraj Rajbhandari on Rhythm Guitars/B Vocals, recorded their first album in 1993. This album, "Navin", was dedicated to Navin, the late brother of Nischal.
Nischal Shrestha (Metal Cross) released a new album (Pari Ban Ma) on New Year's Day 2059 B.S.
You can purchase it from http://www.nepalisite.com
You can listen to one of the songs (Paari Banmaa) from the links below.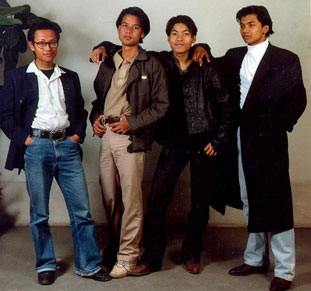 Metal Cross in 1992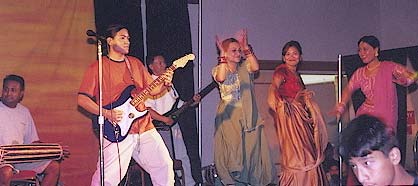 Singing Paari Banmaa at Atlanta Conference in July 2000
Listen to their songs:
New Song: Real Audio Format | MP3 Format
Paari Banmaa: Real Audio Format | MP3 Format
Khoji Khoji: Real Audio Format | MP3 Format
Please visit http://surf.to/metalcross.com for further information.